20020004-D101B01LF -
Conn; Terminal Block; Pluggable; Plug; Contact Up Side; 3.81 mm Pitch; 10 Pos.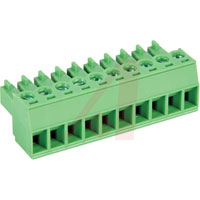 聲明:圖片僅供參考,請以實物為準!
制造商產品編號:

20020004-D101B01LF

倉庫庫存編號:

70252499

技術數據表:

Datasheet
由于產品數據庫龐大,部分產品信息可能未能及時更新,下單前請與銷售人員確認好實時在庫數量,謝謝合作!
20020004-D101B01LF產品概述
Overview:
FCI's Printed Circuit Board signal and power Terminal Blocks are available in pluggable and fixed configurations in various pitch-sizes and wire sizes, for signal and power solutions.

The proven rising-cage-clamp technology ensures long-life and reliable connections, especially for demanding applications in industrial, instrumentation and communication environments.

Features:

Robust and solid design

Modular system, 2 up to 24 positions

Pitch-sizes: 3.50mm, 3.81mm, 5.00mm, 5.08mm, 7.62mm and 10.16mm

Signal and Power, current ratings from 32A up to 55A

Various product configurations

Locking flange feature

Latching feature prevents mismatch

End-to-end stackable

Through mount soldering

High performance rising-cage-clamp contact system and spring-clamp-contact

High durability: 200 mating cycles
20020004-D101B01LF客戶還搜索了
參考圖片
制造商 / 說明 / 型號 / 倉庫庫存編號
PDF
參考庫存數
操作
20020004-D101B01LF參考庫存及參考價格
0 can ship immediately.
有貨可于1-2周內送達
英國2號倉庫直銷,訂單金額100元起訂,滿300元含運,滿500元含稅運,有單就有優惠,量大更優惠,支持原廠訂貨
CNY
27.31
国产99网站免在线观看,国产a∨天天免费观看美女,国产aⅴ精品一区二区三区尤物,国产av巨作丝袜秘书,国产av无码专区久久精品,国产GAY高中生小鲜肉屁股,性生大片免费观看性A片